Dead27s – Ghosts Are Calling Out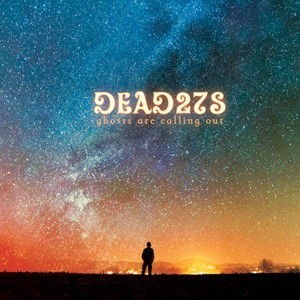 Even if you're not active in the Charleston music scene, you can love and appreciate the Dead 27s. Comprised of members Daniel, Oliver, Trey, Wallace, and Will, they create a blend of soul, funk, and rock into what I've lovingly call ladywood. Their musical swagger may be what attributes to such a sound, and you can get a full dose of it on their recent album, "Ghost Are Calling Out". From start to finish, this album reveals the band's confidence and willingness to take risks. The band is making bold musical choices without sacrificing the heartfelt and genuine songwriting their fans love and expect.
I hope that whoever checks out the album takes the time to listen to it from beginning to end. It took a lot of time and creative energy to make what we feel is a comprehensive work that showcases each member's strengths and talents, as well as the sonic evolution of our band's identity. I just hope with the ever-shortening attention span of the listening public, that some people will still press play and listen closely to everything that we put into each track. – Trey
What A Waste refers to that old saying when you can't meet your full potential. For anyone that may be pursuing a creative or out-of-the-box career field is all too familiar with this saying. This song is about jumping those hurdles and taking down those challenges. It also doesn't hurt with an intro of hard-hitting drums and sexy guitar strumming that immediately grabs your attention.
I hope the audience is able to access some of emotions and sentiments that we as a band held during the making of the album. We really enjoyed making the album, so I hope the audience is able to do the same while listening.  – Oliver
My personal favorite, Hustlin', shows off this quintets funk influence. If you need something to put pep in your step this is the tune for you. With a chorus:
Gotta stay on my grind
I ain't wasting no more time
Gonna go ahead and take what's mine
Gotta keep on hustin'
These boys know hard work, and this song hits on those struggles. It's clear they are speaking from experience and translated those frustrations into a take-no-prisoner anthem.
A lot of sacrifices, time, effort and hard work went into making this album. I hope the audience finds something in this labor of love to connect with, whether it is lyrics, the music, or both. – Daniel
Overall, from start to finish this album shows off the group's experimental side and some risk-taking. They know their sound but push the boundaries on tunes like Intergalactic Dream. The intro already hints to the listener the electronic and synth-filled journey they are about to take. Only One rounds out the album with heavy guitar riffs, and even the album title derives from one of the verses.
"I want our audience to realize that despite what they've heard, rock is not dead. It's also not a stagnant exhibit of its former self. We aren't the only band out there waving this banner, but we do it because we love the music and that chill bump-laden excitement you get when it's good." -Wallace
It's obvious this was a labor of passion and love. I think Wallace hit the nail on the head with, "We aren't the only band out there waving this [rock 'n' roll] banner, but we do it because we love the music and that chill bump-laden excitement you get when it's good." Make sure to attend their album release party this Saturday night at Charleston Pour House. Tickets are just $12.00 in advance and the show kicks off at 9:30 pm. Don't take my word for it, go witness for yourself some really f**king talented dudes.
I hope they [listeners} really enjoy the album and it moves them in some way. And I hope they can hear the growth of the band. And that's a big one I think… the growth. We are moving forward as a band and are continually developing and molding our sound while staying true to who we are and what type of music we play. Making this album was a special process for us and they made it possible. I want them to know that this album is not only for them, it happened because of them. For that, we are forever grateful. – Will
Congrats, gents!