Baby We Were Young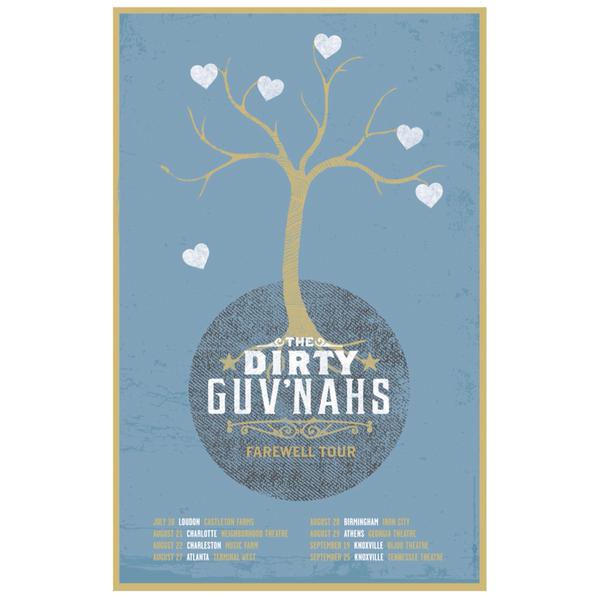 Music has the power to emotionally and metaphorically transport us to easier times and younger times. The Dirty Guv'nahs is the music that takes me back to a freer time spent. After hearing of The Dirty Guv'nahs (TDG) unfortunate farewell tour occurring late summer/early fall, it took me back to my time in Atlanta. It was a tough time, but probably the best two years of my life. Not necessarily because of the fun, but of the personal growth that took place. I traveled, started blogging and took A LOT of chances. Through these ups and downs, music was one of those old faithful coping mechanisms that kept me moving even when my direction-less self just couldn't cut it.
TDG was a "must see" band of mine for years, and when I heard of their headlining show in Macon for the Cherry Blossom Festival my gal pals and I made the mini road trip. Now, no offense to my Georgia people, but Macon, well, it's an interesting place. Other than the red locals, I wasn't prepared for what I was about to hear. There in Macon's municipal auditorium, TDG shook me from my zombie-like state. "Live Forever" was the song that brought myself and my roadtripin' galfrands into a complete state of ladywood. The drums shook my soul and the Jagger-like moves had my heart aflutter. This, ladies and gents, made me fall in love with this band and then caused an intense obsession that I couldn't shake. The album, Somewhere Beneath These Southern Skies, became the soundtrack to my years in Atlanta and an old faithful friend.
As I played this album on repeat, each song became a reminder to some epic ATL moments. "Don't Give Up On Me" will forever ring true of the highs and lows I experienced with The Cable Guy* until we lost connectivity and couldn't reset. "Honey You" was the first time I introduced my girl, Kass, to TDG and let me tell you, the blisters were gnarly after that dancefest."3000 Miles" made me believe in love again, when Deputy Doofus* would fly across the country just to see me. And you best believe, I played TDG on repeat after he broke my heart.
There seems to be a great memory or emotion tied to each of my favorite Guv'nahs' songs; and that's the great thing about music. It serves as your trip down memory lane, a crutch for when you have no leg to stand on, and pinpoint on your living timeline. We cannot fight growing up, slow down time, or wake up wiser, but we do have music and thankfully, good music like The Dirty Guv'nahs, to always remind us of when youth was in our blood and baby, when we were young.
Thanks for the trips, gentlemen. Cheers to one last round tomorrow night.
*Names have been changed to protect the guilty